This one is LONG overdue, and I absolutely love telling it, but aside from a condensed version on our wedding website, I've never written my and my husband's love story. I was always trying to write what I thought would be my "love" story in my journals growing up, but the other person was never God's best for me. It's funny how when I stopped writing it all down, God truly was able to take over and write it for me. If you haven't read When God Writes Your Love Story by Eric and Leslie Ludy, I encourage you to check it out. I read it back when I started this blog in 2014 when I was doing K-Love's 30 Day Challenge.
After boy-crazy teenage years and a freshman year of college full of finding my worth in fraternity boys – yeah, I'm going to be brutally honest telling this story because I believe God has used and will use my brokenness as my testimony to Him — I was ready for a fresh start when I transferred to a new school my sophomore year. The summer of 2014, my girl friends were getting into dating apps like Tinder, and I downloaded it too, but I vividly remember the day I deleted it in a dining hall on campus at my new school. I think it's 100% God-willing for many couples' stories to begin there, but I felt God in my heart telling me that wasn't going to be my story.
I remember the first conversation I had with Bradley Brown. It was August 20, 2014, and we were in our very first meeting of the class Foundations of Education. We were both 19-years-old and starting our sophomore year as English Education majors. Students always play some "fun" version of the name game on the first day of school, and on this day, our professor simply asked us to go around the room and say our name, where we were from, what year we were, and our major.
This would have been insignificant without a previous "love" story in my life: my high school boyfriend. All of the drama and messiness of that relationship prepared me to be attentive the moment Brad said the name of his hometown. He even prefaced it by saying no one would know the place, but I did. I told Brad as much, and then proceeded to text my high school boyfriend, then very much an ex, to let him know that a guy in my class was from the same town as his cousin, whom we had visited for the Fourth of July a few years prior. Turns out Brad's neighbor at the house his family first moved to in town was my high school boyfriend's cousin.
Only God can make all things, even the really messy ones, work together for our good (Romans 8:28), and at the time, I didn't even know it.
Truth be told, I had briefly noticed Brad before he spoke because he was wearing Crocs, a weird shirt, and his hair was wild (the picture below from weeks later is a pretty accurate representation and likely the exact same outfit from that day but I cannot confirm). It was not, unfortunately, love at first sight. I wasn't even attracted to him in that moment, but I did think, "Wow, that's a guy who doesn't care about what other people think about him." This is one of the things I love most about my husband; he is SO confident in who he is.
I didn't know I'd met my future husband that day, I just knew that I prayed I would meet him when I transferred schools. That's the thing about God writing your love story, though — you have to give Him the pen. Up until then, I had the destructive habit of projecting a relationship onto all of the boys I had a crush on, and I have paid a heavy price for that in my life. Even when I met Brad, my heart probably wasn't ready for a relationship, but for seven years now, he's been nothing but gentle and understanding as I've worked through all of my baggage.
On September 15, Brad and I were paired together for a group project. He had just gotten the new iPhone 6 so that's what we talked about. Brad was also Snapchatting our mutual friend, someone I had only met because I joined my sorority at my first school and transferred (read Transferred and Commuting, My Reason to Be A Phi, and My Sorority Experience). She screenshotted his Snap and sent it to me, and only then did I begin to take an interest in Brad beyond judging his appearance.
After that, it was butterflies all day, but I was struggling to look past Brad's crazy hair. I remember going back to my sorority's wing in Panhellenic Hall for lunch and wanting to gush about the cute boy I had a connection with in class but I was also nervous about showing anyone his Instagram. Eventually, I opened up to two upperclassmen, and they were so happy for me and assured me that despite the hair and the Crocs, Brad was a pretty good looking guy.
When I finished my afternoon classes, I sprinted across campus to talk to our mutual friend in person and to "accidentally" run into Brad since he was her Co-Community Adviser on the third floor. Brad was at football practice that afternoon, but she invited me to have dinner with the CAs before chapter meeting that night because she knew Brad would be there. My friend and I talked all afternoon about Brad, and I found out that he was a kicker for the UCM football team, active in his faith, and one of the funniest guys ever. At dinner, however, I didn't get to experience any of the great stuff about Brad even though I was sitting right next to him. We were both so nervous and awkward that we didn't know what to say to each other!
Frustrated, I decided I needed to make a move. After dinner, I wrote Brad a note that said, "I think you're pretty too" and signed it "Your Secret Admirer" with my number. He made it a point to have our mutual friend tell me that he thought I was pretty and not cute because cute is for baby animals. When I left for chapter meeting, I trusted that she would slide the note under Brad's door.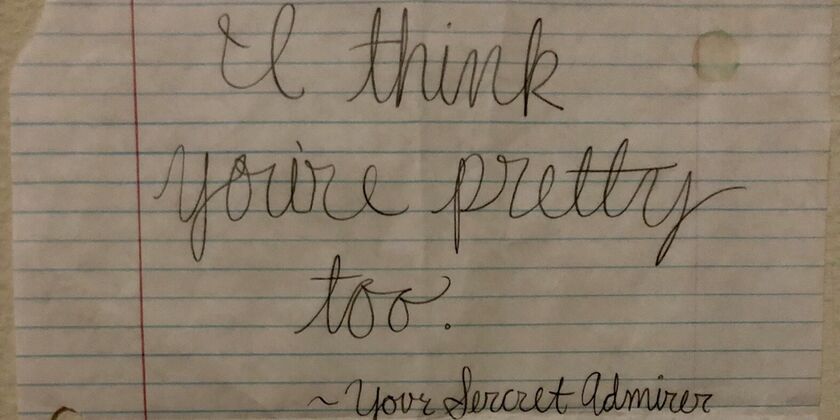 The moment I got to my car to drive back home after chapter, I received a text from an unknown number, and we haven't stopped talking since. Our first texting conversation was about the mission trips we have been on, giving us a foundation, albeit a small one, in Jesus.
Things got a lot more comfortable and less awkward for Brad and me on Wednesday, September 17, when our mutual friend invited us to a party together. After a few drinks, we were playing beer pong and finally talking to each other, and soon enough we decided to leave the party and walk across campus back to Brad's dorm. As we walked that night, I remember him screaming as loud as he could, "I'M WITH THE PRETTIEST GIRL ON CAMPUS!" We stopped and took really bad selfies with the campus statues, and when we sat down to take a break to the right of the Rec, we shared our first kiss.
That night is definitely not the most shining night of our relationship, but it's a fond memory because it was the last first kiss we'd ever have, and back then we didn't know it. We had a lot of sin to unpack, but God knew that we needed to do it together. In fact, sin is a big part of our love story, and while I wish we would've waited for marriage or at least for each other, God used the choices we made separately before we knew each other and the choices we made together to ultimately draw us closer to Him.
I do believe people should wait for marriage because walking through the consequences of not waiting in our marriage have been extremely challenging, but I also believe that God still loves you and can use you if you haven't waited for marriage. Brad, more than anyone else in my life, has met me where I'm at with the brokenness in my sexuality and loved me unconditionally through it. We share a lot of similarities in that area and while the world, including self-righteous Christians, might look at that and only see the ugly, God has made our love story so beautiful because of it.
Two days after our first kiss, Friday night, Brad asked me out on our first date. We ate at Olive Garden, and then I needed to run by my house to get warmer clothes for a sorority event the next morning. By deciding to do this, I put Brad in the situation to meet my family on the first date. While I gathered my things in my room, Brad had the honor of chatting with my grandma in the living room, and he attempted to make conversation with one of my brothers. I remember apologizing continuously as we left my house, and for the longest time after that Brad would constantly tell me how awkward my brother was.
Now, I don't think they'd have to think twice to tell you that they are each other's very best friend. This became true with my other brother too, and I jokingly tell people that if I didn't exist, Brad would still hang out with my brothers. While it would be so easy to feel jealous about this, once again, Brad was created by God so uniquely that he fits in like a missing piece with my immediate family yet also so clearly sees me and chooses me no matter what, something I haven't always felt with my family. Only God can orchestrate a relationship like that.
Next on our first date, Brad and I watched our first scary movie together, something we both still enjoy doing today. I still don't think I knew I was with my future husband that night, but I knew I was comfortable, safe, and having fun, and that's all I really needed at that time in my life. I struggle to definitely say whether Brad being a CA and having an extra bed was a blessing or a temptation — in reality it was both, and God used it in my life. I was commuting for half of our relationship in college, and while I had sorority sisters to crash with, I chose Brad and likely wouldn't have gotten involved in other organizations like the Baptist Student Union if I wasn't spending so much time with Brad.
I started to fall for Brad, and after approval from another mutual friend of ours – a guy I had a crush on freshman year of high school and went to prom with junior year who just so happened to play football with Brad and also be in our education classes – I knew I wanted to pursue a relationship with him. I hate to admit it, but his interesting style and wide array of interests was growing on me. Not to mention underneath it all, he was very cute (note: adjectives to describe men make me uncomfortable… cute is not just for baby animals in my book!).
On October 17, 2014, Brad planned a surprise date night for me that started at Houlihan's, which we used to consider our place, but they've changed the menu so it's just not the same as it was back then. I knew he had something special planned, but I'd never been asked to be someone's girlfriend on a real date so I wasn't sure what to expect. He played it really cool the whole meal: our nachos followed by a southwest chicken wrap and french dip sandwich. And then, with a Harry Potter wand in hand (I told you… he was/is weird!), he told me how much fun he'd been having with me and how much he liked me, and then he asked me to be his girlfriend. "Yes" to Brad was and still is the easiest answer I'll ever give. For Christmas that year, I got Brad Professor Snape's wand because the wand he had when he asked me to be his girlfriend was unfortunately lost at a party.
On Valentine's Day in 2015, Brad and I are went back to Houlihan's, and this time, he had a poem to read to me. I was waiting for this moment since January when I heard him sing the All Sons & Daughter's version of "Give Me Jesus" at his home church. In that moment, I knew that I was going to marry Brad. The last lines of his poem say this:
Jess, you are my boo.

There's no doubt about it.

I am in love with you.

We are the perfect fit.
From there, we prioritized growing closer not only to each other but ultimately in our relationships with Christ. Many days we felt like we were on a tight rope swaying back and forth between secular college life and what the Bible says our lives should be like if we're in Christ. For the most part we had people in our lives who genuinely loved us and never judged us one way or another. It was hard, and the only thing we were sure of was each other, especially Brad. As in love as I've always been with love and romance, Brad has always been more steadfast and true in our relationship. I struggle with being quick to want a "break" or quite literally leaving in the middle of a fight, but Brad has told me from day one that breaks are not an option — we're either together or we're not — and he doesn't believe in divorce. I don't either, but the Good Lord gave me a gift with words, and unfortunately, I've learned I can use them well for both good and evil.
At the end of our junior year in 2016, our desire (mostly mine at this time) only grew stronger as we watched every single one of our couple friends get engaged and married all while still being college students. It was a trying time, especially for me, but we both knew the most important thing in our lives at the time was to enjoy and finish college. 1 Corinthians 7:9 rattled in both of our minds – "But if they cannot control themselves, they should marry, for it is better to marry than to burn with passion" – but we continued not to wait for marriage and just wait to get married.
Our love story isn't perfect, and many days in our relationship, that has been painfully clear. Brad spent the summer of 2016 working at a Christian camp, which meant our primary method of communication was letter writing (something I love!). What they say is true, absence makes the heart grow fonder. Yet, an even more difficult season was ahead: our student teaching semester. We were placed at difference schools in different cities, and while I was offered a teaching contract in February, not even two months into student teaching, Brad struggled to pass the English education test and ultimately found out his academic adviser had misadvised him and he was missing one class to officially receive his diploma. He was still able to walk at graduation, but he couldn't get certified to teach yet.
This led Brad into a season of depression, and while I tried to be there the best I could, I was navigating major life change after major life change and really putting on a happy face myself, a lot like I did my freshman year of college. Despite all of this, I knew Brad would ask me to marry him the summer after we graduated college, and I even had an idea of when he'd pop the question in March 2017 when his mom invited me on the family graduation trip. At 9:00 am on a Sunday, July 2, 2017, in front of Hogwarts Castle and tons of strangers, Brad gave me my first wand that was engraved with "Will you marry me?" and got down on one knee.
We were happy, but we both agree that year we were engaged was terrible. Between Brad's depression and my extreme stress, we took out our emotions on family members and friends who just wanted to be a part of planning our special day, and we didn't really enjoy the process. Our wedding (watch our wedding video here) was beautiful and the people there, especially those who went out of their way to help us make the day perfect, were awesome, but if we could go back, I think we'd do everything differently. Ultimately, Brad and I weren't happy in our own skin, quite literally (read I LOST 1/4 OF MY BODY WEIGHT IN 9 MONTHS). Luckily, our marriage as a whole is what matters most, not the day it started.
As Brad came out of his depression, I fell into my own during my second year teaching and our first year of marriage. I was burnt out, unhappy, and in a really dark place. Brad walked with me through it, sometimes finding me sitting in the shower sobbing, and he did nothing but love me through it, even when I wasn't nice to him. In my vows, I said, "Bradley, I've been loving you since the day I heard you sing 'Give Me Jesus' at church, and you've been giving me Jesus as my very best friend ever since. I choose you today, tomorrow, and every day for the rest of our lives." Frankly, I sucked at doing anything I said in my vows our first two years of marriage.
Brad always tells me not to compare him to Jesus, but 1 Peter 2:21 says, "For to this you have been called, because Christ also suffered for you, leaving you an example, so that you might follow in his steps." Brad follows Jesus's example of loving me unconditionally so well, ESPECIALLY when I don't deserve it. Year three of our marriage was definitely better than year one and two, but right before our third anniversary, we had probably our biggest fight yet. I was a monster, but Brad was right there, loving me through it, even as I egged him on to hurt me the way I hurt him with my words. He loves me SO well and chooses me every day. On our anniversary this year, I told him I want to do the same, just like I said I would in my vows and just like our song "You Are Mine" by Spencer Combs & Holley Maher says.
Ultimately, I believe love is a choice, and I think I always have. It's a choice to let someone else in and a choice to know them. You can choose to love anyone, and what makes it last is two people who choose each other every day no matter what. Any of the guys I "projected on" before Brad could've been the one, but no one chose me the way I deserve to be chosen until Brad. It's hard to love a broken person but loving each other not in spite of but because we are broken makes us great. Since the day we met seven years ago, two things are true: we haven't stopped being sinners but we also haven't stopped loving each other through it. I wholeheartedly believe God made Brad and I in His perfectly imperfect way so that we can glorify Him through our brokenness here on Earth.
And what's next for us? Year four of marriage has already brought us our first home as homeowners (blog post to come), and while we love our two rescue fur babies (read their story here), we're talking about human babies more and more. I'll never forget something Brad said to me just weeks into our relationship. We had the talk you have when you're having sex but not trying to get pregnant: what do we do if it happens? 19-year-old Brad said, "It would be hard, but it would be okay because that would mean we'd always be in each others' lives." He tells me he doesn't remember when he first knew he loved me or knew he wanted to marry me, but I think that was it.